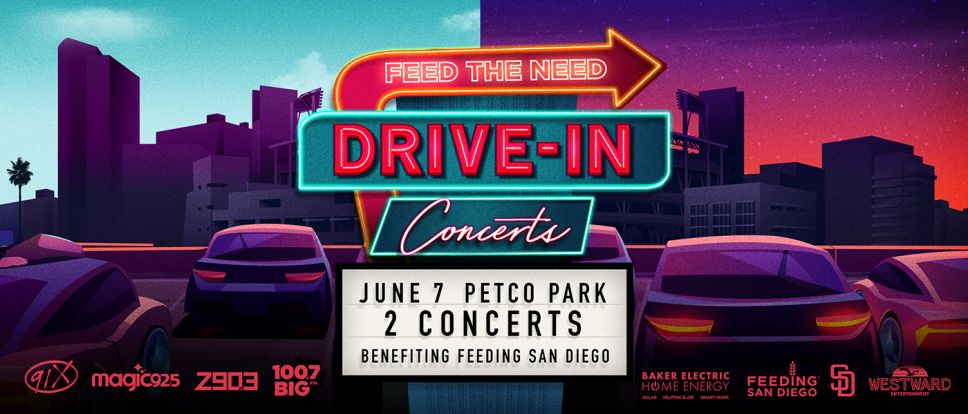 June 7, 2020
Petco Park - Lexus Premier Parking Lot, San Diego, CA
Event Summary
Drive-In concerts benefiting Feeding San Diego
Event Details
NOON SHOW $50
B-Side Players, SM Familia, Los Sleepwalkers
Doors/Vehicle Entrance: 10:30am
Vehicle Entrance Cutoff: 11:45am
Show: 12:00pm
Ends: 2:15pm
EVENING SHOW $100
Switchfoot w/HIRIE (acoustic)
Doors/Vehicle Entrance: 5:30pm
Vehicle Entrance Cutoff: 6:45pm
Show: 7:00pm
Ends: 9:15pm
All Ages Welcome
$50 Per Vehicle - Noon Show
$100 Per Vehicle - Evening Show
Max ticket purchase: 1 per show
No refunds for any reason
NO TICKETS WILL BE SOLD ON SITE
All current city mandated social distancing rules at the time of the show will apply.
VEHICLE CAPACITY RULES
One person per seat belt in the vehicle will be permitted - this is a strict rule and overcrowded vehicles will not be allowed to enter!
PARKING IN THE VENUE
Parking locations are on a first come first serve basis. No oversized vehicles, commercial vehicles or RVs.

Smaller cars/sedans are strongly preferred to allow better viewing for all.
Larger vehicles will be parked in the very back rows or outer perimeter - no exceptions.
When and Where
Petco Park - Lexus Premier Parking Lot
11th and Imperial Streets
San Diego, CA 92101
June 7, 2020 PDT
Re-send Order Confirmation
Click here
to re-send your order confirmation email.